Chiropractic Care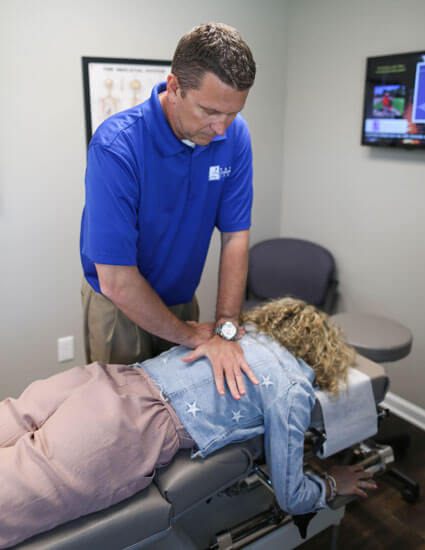 Techniques That Work for You
At Davis Chiropractic Center, we want to make sure you get the care you need. Dr. Davis and Dr. Preston are well-versed in several different chiropractic techniques. These skills allow them to tailor care to what your body requires and your comfort. These methods include
Activator Methods®
Diversified
Extremity adjusting
Gonstead
Myofascial release
Trigger point therapy
Webster Technique
We also offer adjunctive services such as electric muscle stimulation, heat and ice, traction, posture advice, and therapeutic and corrective exercises that can be completed in our rehabilitation room.
Dr. Davis has distinctive capabilities in the treatment of feet. For those who have plantar fasciitis or experience other foot issues and have visited other specialists without results, we offer you a nonsurgical way to treat your pain. We even have specific exercises to rehabilitate your feet.
Auto Accident Cases
When you've been in a car wreck, you need to concentrate solely on recovering. Dr. Davis and Dr. Preston see many victims of collisions, helping them rehabilitate their body and regain their health. We'll even file all the necessary paperwork required by your insurance company so that you don't need to worry about the details.
Prenatal and Pediatric Chiropractic Care
Area OB-GYNs and primary care physicians often refer their expecting patients to Dr. Davis and Dr. Preston. Our comfortable tables allow you to benefit from chiropractic care through every stage of your pregnancy. We've seen many breech cases and use the Webster Technique, which may allow baby the space required to get into the proper birthing position.
After your new bundle of joy arrives, our doctors can check your baby to ensure that their body is in perfect alignment.
Contact us today to experience the many incredible benefits of chiropractic. Same-day appointments are available, and X-ray facilities are located on-site for your convenience!
CONTACT US »


Chiropractic Care | (770) 486-9169