Prenatal Chiropractic in Peachtree City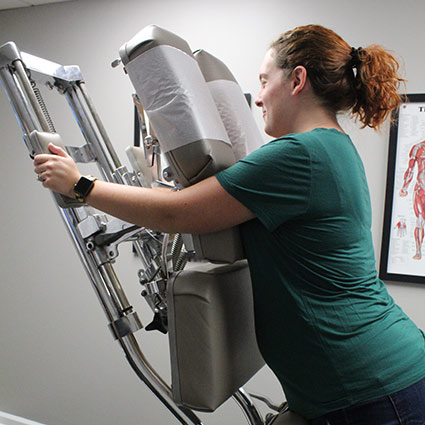 At
Davis Chiropractic Center
, we love welcoming pregnant women into our care. No matter what stage of pregnancy you're in, we're confident that we can help you have a better, pain-free pregnancy.
How Prenatal Chiropractic Can Help
Prenatal chiropractic care is a type of chiropractic care that is specifically designed for pregnant women. This type of care can offer a variety of benefits, including relief from pain, better birthing position for the baby, reduced labor time, and reduced stress levels throughout the body.
Prenatal chiropractic care can help to ease back pain by aligning the spine and pelvis through sacrum adjustments. This can help to take the pressure off of the back and other joints. One thing that our pregnant patients like best about visiting us is that we use Webster technique, a chiropractic adjustment technique specific for pregnant women.
Webster Technique
Webster technique allows a patient to lie face down to receive their adjustment-something many pregnant women love! These moveable tables have an open space for your growing belly, so the baby will not be affected one bit. Women often feel relief and relaxed simply by getting to lay in this position that's usually off limits.
This technique can help to reduce stress on the hips and spine by realigning the pelvis. This can help to take the pressure off of the uterus and alleviate stress on the nervous system, as well as create the best space for the baby to grow. This technique is often utilized on pregnant women whose baby may be in a breech position, as it can help turn the baby and get him or her into optimal birthing position.
Frequently Asked Questions
How can chiropractic care help during pregnancy?
Chiropractic care can offer a variety of benefits during pregnancy, including relief from back pain, improved digestion, and reduced stress levels in addition to proper hip and pelvis alignment.
Is chiropractic care safe during pregnancy?
Yes, chiropractic care is very safe for pregnant women. During an adjustment, the technique used is extremely gentle. There will never be any pushing or pressing on your stomach. Your baby will remain safe the entire time.
How often should I see a chiropractor during pregnancy?
It is generally recommended that pregnant women see us a couple of times each week during the beginning of their care. After getting the pelvis properly aligned, we typically move care out to a couple of visits each month.
Your first visit will last approximately 45 minutes to one hour. We'll get to know you and your health concerns and perform a quick examination. After, we'll make our recommendations for care and perform an adjustment if you're ready to move forward. Ongoing care typically consists of adjustments and any stretches or exercises recommended for you.
Absolutely not. We take pride in offering extremely gentle, specific adjustments for all our patients-especially pregnant women. Most expectant mothers remark that care with us is relaxing and helps them feel better quickly.
Learn More Today
Ready to find out if chiropractic care is right for you and your child? We'd love to help you discover the many benefits. Contact us today to book an appointment and get started with us. Our doctors can't wait to welcome you into the practice.
CONTACT US »

Prenatal Chiropractic Peachtree City GA | (770) 486-9169