Meet Dr. Gary L. Davis, Jr., B.S., D.C.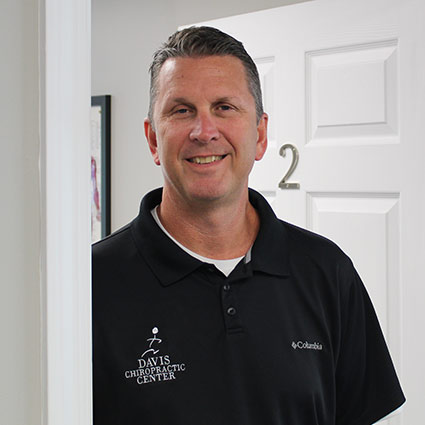 Living a Chiropractic Lifestyle
Dr. Gary had been a chiropractic patient for his entire life due to his mom's incredible life-saving experience with chiropractic during her childhood. She had terrible asthma that no medical doctors could help her with.
Chiropractic care
allowed her to get better, and Dr. Gary has always enjoyed the many health benefits offered by chiropractic care. Combined with his love of helping others, becoming a chiropractor was a natural choice.
A Thorough Natural Health Education
Dr. Gary attended Life University in Marietta, Georgia, earning his Doctor of Chiropractic and Bachelor of Science in Nutrition. He's been in practice for more than 25 years. He's also an examiner for the National Board of Chiropractic Examiners.
EXPLORE OUR SERVICES »

Outside of the Office
Married to Shelly for over 25 years, Dr. Gary and his wife stay busy with their family. They have four sons. Parker and Palmer attend Kennesaw State University in Kennesaw, Georgia. Pierce recently completed his studies at Kennesaw State University and Preston is a recent graduate of Life University and the newest Chiropractor seeing patients in the practice. In his spare time outside of Davis Chiropractic Center, Dr. Gary enjoys being outdoors fishing, boating, camping, going to NASCAR races, and spending time with his three dogs.
Get Started Today
Dr. Gary is an in-network provider with many insurance plans and files with Medicare. Contact us schedule your appointment today!

Dr. Gary L. Davis, Jr., B.S., D.C. | (770) 486-9169