Meet Dr. Preston C. Davis, D.C., C.C.E.P.
Following in His Father's Footsteps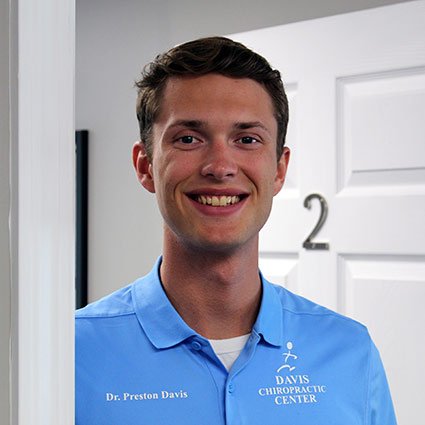 Growing up, Dr. Preston got to see his father, Dr. Gary, help so many patients whose lives were changed by natural chiropractic care. Since he was just 3 years old, Dr. Preston knew he wanted to become a chiropractor. "There's nothing as fulfilling as helping somebody."
Education & Certification
Dr. Preston earned his Doctor of Chiropractic from Life University in Marietta, Georgia. While there, he often met with Dr. Morgan, one of the founders of the University. Dr. Morgan would talk to Dr. Preston about how to connect with people and change their lives.
Dr. Preston is a Certified Chiropractic Extremity Practitioner (C.C.E.P.).
Taking the Time to Listen
If you've ever felt like a number at another practice or the doctor didn't listen to your concerns, that's not the case when you meet with Dr. Preston. Caring and compassionate, he listens attentively to patients and seeks to determine what's going on with their health.
"I always aim to make a connection with each patient and figure out how to help them." Dr. Preston will craft a customized care plan to meet their goals, whether it's to relieve pain, improve function or something else.
Staying Active in Peachtree City
When he's not at the practice, Dr. Preston likes being outside in the sun and participating in anything sports-related. In particular, he enjoys wakesurfing, playing basketball, and started taking up golf. Attending NASCAR races and other sporting events is another favorite thing Dr. Preston likes to do. His favorite team is the Miami Hurricanes.

Dr. Preston C. Davis, D.C., C.C.E.P. | (770) 486-9169