Sports Chiropractic in Peachtree City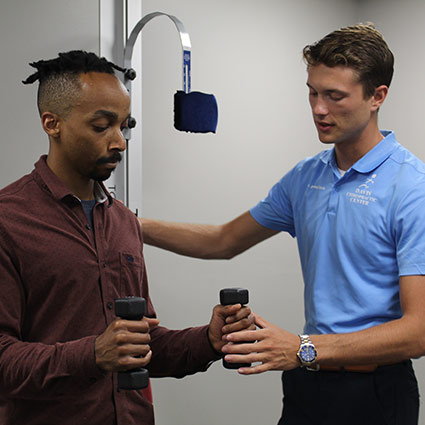 It's no secret that athletes put their bodies through intense physical activity. That means that they're also susceptible to injuries. When athletes do sustain an injury, it is important for them to receive the proper care in order to heal correctly and as quickly as possible.
At Davis Chiropractic Center, we're proud to offer chiropractic care as one of the many ways athletes can make sure they get back into the game as quickly and safely as possible, ensuring their body heals properly.
We commonly help athletes overcome a variety of injuries, including:
Muscle strains and sprains
Joint pain and dysfunction
Headaches
Neck pain
Back pain
Repetitive strain injuries
This type of care can help you in a number of ways, depending on your specific condition. Some common benefits include:
Reduced pain and inflammation
Improved range of motion
Enhanced muscle function
Increased joint stability
Improved overall health and well-being
And more!
When it comes to your treatment, there will never be any guessing. In fact, we take pride in diving deep to uncover what's really going on in your body so that we can help you heal properly. We'll begin by getting your health history so that we have a complete understanding of what brought you in. We'll then do orthopedic testing to understand even more of what's happening in your body. If necessary, we'll take additional scans like x-rays. After, we'll go over your recommended care plan and get started with your first adjustment if you're ready.
What is sports chiropractic care?

Sports chiropractic care is a type of chiropractic care that is specifically designed to address the needs of athletes. Athletes often experience different types of injuries and pain than the general population, and as such, they require a different type of care. Sports chiropractors are specially trained to assess and treat these conditions, helping athletes to stay healthy and perform at their best.
What can I expect during a sports chiropractic treatment?
Your sports chiropractor will tailor your treatment specifically to your needs. However, some common treatment methods used in sports chiropractic care include:
Chiropractic adjustments: This is the most common type of treatment used by sports chiropractors. Adjustments help to restore alignment to the spine and other joints in the body, which can reduce pain and improve function.
Rehabilitation exercises: Specific exercises and stretches may be recommended in order to strengthen muscles and improve range of motion. We'll show you how to do these in our office so that you can perform the same stretches or exercises in the comfort of your home with the ultimate goal to help improve the healing process.
How quickly will I recover?

Because each person is unique, it's difficult to say exactly how long it will take for you to heal. However, with acute injuries, patients generally feel better after a few visits. If the injury has persisted for months or years, it may require more visits to feel better.
Learn More Today
Whether you're a weekend warrior, serious athlete, or have a child in sports, we're here for you. Contact our doctors today to learn more about how we can help you function at the best of your ability. We can't wait to help you get back to doing what you love.

Sports Chiropractic Peachtree City GA | (770) 486-9169