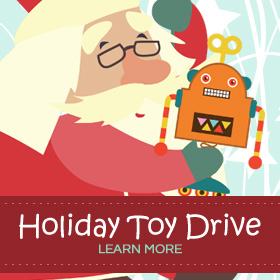 Just as we are passionate about helping patients of all ages experience optimal health through natural chiropractic care, we are also steadfastly committed to giving back to those in need. For the third year in a row, we are holding a Toys for Tots drive at the practice. Since its inception in 1947, 548 million toys have been distributed to date, and 251 million children have been supported. It's a great privilege to partner with Toys for Tots to help underserved children have a happy holiday season!
Benefitting Local Children in Need
From now until December 14th, we invite you to bring in to the practice a new, unwrapped toy that will be donated to a child in need who lives in our community. "We chose to partner with Toys for Tots as it's a high-quality organization that's been vetted," says Dr. Davis. We also appreciate that the toys that are donated will go to local kids who are less fortunate.
A Special Thanks to Our Young Patients
Christmas and the holiday season seems to bring out the best in everyone, particularly the children who come in for care at our practice. It warms our heart to see so many of them use their allowance to purchase gifts for Toys for Tots. Their selflessness is wonderful and so greatly appreciated!
To all who have already donated toys, thank you so much. Your kindness will go a long way toward helping kids have a merrier Christmas. Remember there's still time to participate in the drive. If you have any questions, please contact Davis Chiropractic Center today!